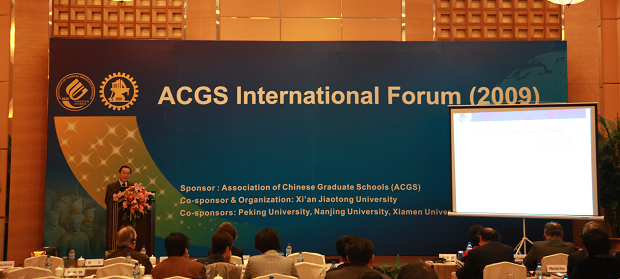 ACGS International Forum(2009)
Theme:
International Collaboration in Graduate Education: Exploration and Innovation
Topics:
1. The practice of international collaboration in graduate education and

its developing trend within a global context;
2. International mobility for graduate students and researchers,
and cooperation in academic research;
3. The development of graduate education and the demand for human resource
within a global context;
4. Standards of academic degrees, quality assurance and development strategy
in graduate education of each country.
General Information:
Ph.D Workshop China(2009)
For the incorporating event "Ph.D Workshop China(2009)",

please visit: www.phdchina.org
Contact us:
Mrs. Xiaoling Liao
ACGS Secretariat
The Graduate School, Peking University 
Beijing 100871, P.R. China
Tel/Fax: +86-10-62751357
E-mail: grslxl@pku.edu.cn
ACGS Secretariat 
June 23rd, 2009